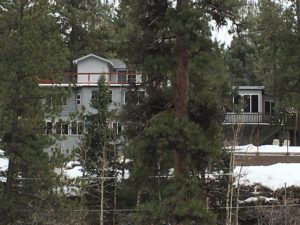 Located in the heart of the Humboldt-Toiyabe national forest, the largest national forest in the lower 48, this spectacular newly renovated historic home boasts 2 large suites, and two large rooms with shared bath, and can sleep as many as 21.  Just 45 minutes from downtown Las Vegas, this unique residence provides scheduled Healthy Brain retreats that address the biological and electrical imbalances underlying the majority of mental health issues.  Healthy Brain retreats can be intensive 10-day experiences, or a more leisurely 30-day retreat.  Healthy-Brain retreats can be scheduled for individuals, families, or groups up to 20.
Our Healthy Brain Approach arises out of the extensive neuroscience recognizing that everything we think, say, feel, and do; and how we think, say, feel, and do, is a result of the chemical/electrical reactions we call neurotransmission.  We know that when the chemical side is in good balance, good mental health generally occurs.  We now know that when the electrical side is in good balance and well connected, adverse mental health symptoms are reduced or eliminated entirely.  The traditional medical approach to this understanding is to treat the chemical imbalance with chemicals.  The problem with that approach is that we can not introduce a chemical into one part of the brain without affecting other brain-region activity, ergo the long list of side effects associated with any pharmacological approach.
Our Healthy Brain approach has been used by many of our clients at the Las Vegas Neurofeedback Center, with excellent results  In our outpatient clinic, most clients complete the Brain-training portion of the Healthy Brain approach in 3-4 months.  In our retreat settings, we Brain-train an average of twice daily, for a total of 20 sessions.  In longer, more leisurely retreats, we brain-train daily.
Steps away from hiking and biking trails, and minutes away from the largest ski/snow play area in Southern Nevada, this beautiful home has a very large and fully appointed kitchen/dining room, library, living room, and many other shared spaces. The first home built in the small Rainbow-subdivision community, the site boasts the best views of the surrounding valley and surrounding mountains. Each room/suite has and is named after the mountain peak seen from their windows.
Whether you are looking for an individual room/suite for your longer-term stay in the region, away from the hustle/bustle of Las Vegas, or for a very special family event/vacation, you will be joining an impressive guestlist of those who've been here, since it was first built in 1951.
Featured on HGTV's "Whose Lived in My House," the 7-year reconstruction and remodeling was completed in December 2018 by owner Dr. Don, an addictions and mental health specialist, co-owner The Las Vegas Neurofeedback Center. He has meticulously designed and remodeled this home and now offers these unique spaces to provide Healthy Brain Retreats.  The Healthy Brain Retreat is also the center for the 501(3)(c) non-profit Brain Health Warriors. Brain Health Warriors supports research and treatment for wounded warriors, alleviating the effects of traumatic brain injury and post-traumatic stress disorder.
Room/Suite Descriptions
Alpine Suite: King size bed in generously sized room, Full-size sofa bed in adjacent room, large bathroom. Sleeps up to 4.
Mt. Harris Suite: Queen bed and full-size futon couch on one side of a Jack-and-Jill bathroom, Full/twin bunk bed on other side. Sleeps up to 7
Mummy Peak Room: King size bed, full-size futon couch shares a bath with the Mt. Charleston Barracks. Sleeps up to 4.
Mt. Charleston Barracks: Two Full/Twin bunk beds shares a bath with the Mummy Peak Room. Sleeps up to 6.
Dr. Don and Ariane, your hosts, are usually on-site in the Chief's Lair, a two-story, two-bath Suite with the best views the area.
When you stay here, you will be joining a very impressive guest list of previous guests of the woman who built this home, an early Las Vegas personality, including the Rat Pack and "the fella's" of early
Vegas days. Gone are this home's "Party Days" as it opens in 2019 as your home-away-from-home.